Our 10,000 square foot training facility at 10 Alcap Ridge in Cromwell, CT, features a comprehensive range of cutting-edge technology and equipment. Our additional classroom site in Waterbury is used for Energy Efficiency BPI training. Entech's hands-on training style prepares students to quickly immerse themselves in the exciting and evolving energy industry, and prepares them for careers in HVAC/R, Propane, Energy Efficiency, and Energy Technology.
ENTECH The School for Energy Efficiency - Waterbury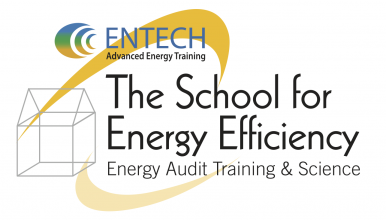 Located at 145 Railroad Hill Road, Waterbury, CT
We teach building science and certify students as building professionals under the auspices of the Building Performance Institute (BPI). Our instructors are also certified by RESNET and the U.S. Green Building Council, and we will soon offer certification training on behalf of those organizations. The School for Energy Efficiency helps companies and individuals capitalize on the growing interest in costs savings through improved energy efficiency. As governmental agencies promote a whole-building approach to efficiency, homeowners and business owners will increasingly look for a new breed of professional who offers a systematic, science-based approach.